CLOFRANIL 25 MG TABLET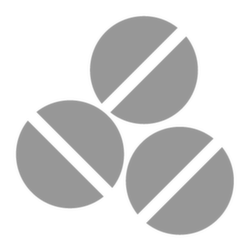 MRP: Rs.
66
for 1 strip(s) (10 tablet each)
SALT INFORMATION
Clomipramine(25 mg)
Uses
Clomipramine is used in adults to treat obsessive compulsive disorder (mental condition characterized by unwanted thoughts and repetitive behavior). It is also used to treat muscular weakness (cataplexy) associated with repeat attacks of extreme sleepiness (narcolepsy).
How it works
Clomipramine belongs to the group of medicines called tricyclic antidepressants. It acts by restoring the balance of chemical substances (serotonin) present in the brain.
Common side effects
Yawning, Increased appetite, Acute confusional state, Extremes of being happy or sad, Altered taste, Inability to empty the urinary bladder, Difficulty in urination, Visual hallucination, Sleepiness, Hepatitis (viral infection of liver), Loss of appetite, Ecg changes, Abnormal heart rhythm, Headache, Insomnia, Disorientation (alteration of mental status), Anaphylactic reaction, Increased blood pressure, Increase in body weight, High grade fever, Muscle damage, Nightmare, Hair loss, Itching, Difficulty in paying attention, Increased sensitivity to light, Hot flashes, Increased white blood cell count (eosinophils), Dilatation of the pupil of the eye, Aggravation of depression, Pneumonitis, Speech disorder, Tremor, Neuroleptic malignant syndrome, Visual disorder, Abnormal sensation in skin, Eeg changes, Agitation, Dizziness, Vomiting, Sleep disorder, Increased sweating, Altered sexual function, Activation of psychotic symptoms, Muscle twitching, Blurred vision, Breast enlargement, Hypomania, Convulsion, Orthostatic hypotension (low blood pressure), Diarrhoea, Unsteadiness, Increased intraocular pressure, Aggression, Fatigue, Abnormal milky discharge from breast, Swelling, Erectile dysfunction, Bruise, Allergic reaction, Muscle weakness, Liver enzyme increased, Restlessness, Depersonalisation (feelings of being outside the body), Jaundice, Anxiety, Skin bleeding, Decreased blood pressure, Ringing in ear, Gastrointestinal discomfort, Memory impairment, Palpitations, Auditory hallucination, Syndrome of inappropriate antidiuretic hormone secretion
Expert advice
Do not start or continue clomipramine tablets, if you are allergic (hypersensitive) to tricyclic antidepressants, clomipramine or any of the other ingredients of clomipramine medication.
Do not take clomipramine if you have history of suicide-related events.
Avoid using clomipramine if you are pregnant or breast feeding.
Advice care givers to monitor the patient carefully.
Doctor's advice should be considered in case of following disease conditions: heart disorders, serotonin syndrome, fits (convulsions), increased pressure inside the eye causing visual problems (narrow angle glaucoma), urinary retention, liver disease, and chronic constipation.
Frequently asked questions Clomipramine
Q. Is clomipramine safe?
Clomipramine is safe if used at prescribed dose and duration as advised by your doctor.
Q. Is clomipramine a MAOI/anticholinergic/benzodiazepine/SSRI/narcotic?
Clomipramine is tricyclic antidepressant. It treats depression through inhibiting the neuronal re-uptake of chemical substances present in the brain called noradrenaline and mainly serotonin (SSRI). It is not MAOI/anticholinergic/benzodiazepine/narcotic.
Q. Is clomipramine a controlled substance?
No, it is not a controlled substance.
Q. Is clomipramine addictive?
Clomipramine is not addictive if used at prescribed dose and duration as advised by your doctor.
Q. Can I take paracetamol/diazepam/5htp with clomipramine?
Taking other medicines may alter the effects of clomipramine. Always consult your doctor for the change of dose regimen or an alternative drug of choice that may strictly be required.
Q. Does clomipramine cause weight loss/weight gain/make you sleepy/cause constipation/affect fertility?
Clomipramine may cause these side effects; effect on fertility is very rare side effect. However, consult your doctor if you experience any of these side effects.
Q. Does clomipramine help premature ejaculation?
Clomipramine effectively increases ejaculatory latency in men with primary premature ejaculation, while treatment is not effective in those with premature ejaculation and erectile dysfunction.
Q. Does clomipramine work for obsessive-compulsive disorder (OCD)?
Yes, clomipramine is used for obsessive-compulsive disorder. Patients should follow the advice of the doctor regarding its use.
Articles