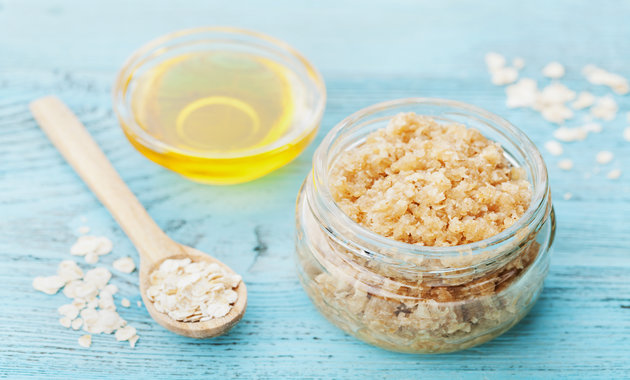 Whiteheads are formed when the pores in your face get clogged. Due to pollution, excessive sweating or even due to hormonal causes oil secretions and dead skin cells surround the pores, the opening becomes blocked and thus small, round white bumps called whiteheads appear.
Unlike blackheads, whiteheads are not painful and can be easily removed with some simple steps.
1 . Lemon juice
Being high in Vitamin C, lemon juice is extremely beneficial for the skin. You can slice a lemon into slices, peel the outer lemon skin and rub this skin gently on the area where whiteheads are formed. The citrus juice penetrates the skin and the peel helps to scrub your skin gently removing the whiteheads.
2 . Oatmeal mask
Oatmeal is a natural exfoliating agent. Make your own homemade exfoliator with oatmeal and yoghurt. Yoghurt is very soothing for the skin and its combination with oatmeal serves as a great exfoliator for sensitive skin. Regular use of this paste can remove whiteheads and bacteria from your skin
3 . Baking soda
If you have an oily face, whiteheads are inevitable. Typically, during summer when the skin sweats a lot, deposition of dirt and grime may eventually increase whiteheads in the oily zones. Baking soda is known to be very effective in absorbing oil from your face. Gently massaging over whiteheads while removing the soda mask can also ensure you get rid of whiteheads and dead cells.
4 . Tea tree oil
Tea tree oil is known to be a natural astringent. Its anti-bacterial properties prevent dirt and oil secretions to linger in your face and enter the pores to form whiteheads. You can use cotton balls to dilute the tea tree oil with water and apply it on your face. Leave on for 15- 20 mins and then wash off with water. Care should be taken to use only in diluted form.
5 . Cornstarch and vinegar
 A little vinegar mixed with cornstarch makes an ideal natural scrub for oily and sensitive skin. This paste is very mild and can soothe your skin. Cornstarch absorbs oil from the face and vinegar can help get rid of dirt. Make sure you wipe it off softly afterwards with warm wash cloth.
6 . Honey and sugar scrub
Scrubbing can help open the blocked hair follicles. Take honey and brown sugar in a jar and shake well. The sugar does not dissolve completely in the honey. Take this in your finger and gently scrub over the whiteheads. Massage for about two minutes and wash with cold water.
Whiteheads can be effectively removed only when the facial pores are open. Use these excellent home remedies to obtain glowing skin and say goodbye to whiteheads.