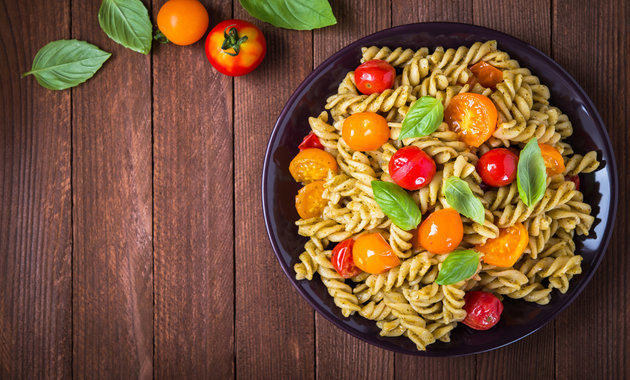 Pasta, one of the staples of Italian cuisine, has long made its way into our Indian homes.The choice of pasta and addition of sauces, cheese, herbs can determine whether your pasta turns out to be healthy or not. Making pasta is super easy and if you make it keeping in mind that you have to make it healthy too, it could be an added bonus.
So here are 6 ways to make your pasta healthier:
1 . Go For Whole Grain Pasta
Search for whole wheat or brown rice pasta for a healthy fiber rich alternative. If you find the whole grain pasta too chewy or course to your liking, look for a blend of Whole Grain & Refined Flour, which is closer to pasta in taste but has a host of health benefits as well.
2 . Ditch Ready-made Sauces
Store bought sauces while tasty and convenient are packed with MSG, high levels of salt and unknown preservatives. Instead make sauces from scratch. A simple red sauce recipe requires 2 small finely chopped onions, 3-4 cloves of garlic. Saute well with rosemary and thyme, blend 6-8 tomatoes and add to the onions and garlic. Add pepper, salt, chili flakes, a few sun dried tomatoes, and a pinch of sugar, some basil and oregano. Let this mix simmer for 15-20 mins. You can add veggies, meat and pasta of your choice.
Lose weight with weight management products >>
3 . Hold The Cheese
While cheesy sauces are tasty and enjoyable, the extra calories aren't. Instead of using cheese to make the sauce, try a béchamel sauce instead. Heat 20 grams butter, with 20 grams maida in a saucepan. Let the butter melt and mix with the maida, add 250 ml milk to this mix. Stir and remove any lumps, until a creamy sauce is ready (5-7 mins). Season with salt, pepper, nutmeg and grate some Parmesan cheese for a healthy creamy sauce.
4 . Load With Veggies
Pasta can be loaded with veggies, broccoli, bell peppers, mushrooms, zucchini, baby corn, spinach, the list is endless. Just make sure that every pasta dish you make has 2 veggies, and take care not to overcook them. Crunchy veggies taste good in pasta and add and a whole bunch of health benefits.
5 . Add Lean Meat And Seafood
While it's easy to use salami, sausages and other prepacked meats to make pasta dishes tasty. These processed meats often contain too much salt, and can be harmful for your system. Instead try adding grilled chicken, shrimp and prawns, to your pasta for healthy protein.
6 . Choose Your Sides Wisely
Pasta is often served with buttery garlic bread, adding more refined flour to a pasta meal, makes it really bad for you. Ditch the Garlic bread and opt for whole grain or multi grain bread. Or choose a healthy fibrous salad made with beetroots, cucumbers, carrots, bell peppers or zucchini to accompany your pasta.
So go ahead and enjoy your pasta, with these ways it isn't an unhealthy meal anymore.