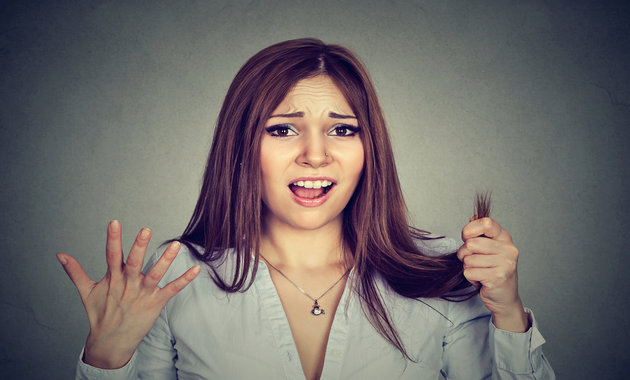 Thin hair is a common problem that most of us are finding hard to deal with. Thanks to the high-stress levels and the pollution-laden air that we are breathing, it goes without saying that our hair has to bear the burden. Also, the type of food that we eat plays a key role in improving hair growth and preventing hair thinning. While the problem of hair thinning is common to men and women alike if left ignored it can lead to severe hair loss. As excessive hair fall often portrays underlying health problems, it is important to take a note of it at the earliest and consult a doctor before you try your bit to save your hair. To know how to deal with thinning hair at home, it is imperative to know about the factors and common causes of it.
What Are The Causes Of Hair Thinning?
There might be numerous causes of hair thinning and hair fall. Genetics is one of the common reasons for alopecia or baldness in both men and women. Although this is a non-treatable problem, there are few other causes of hair thinning that can be prevented. The other common causes include medication, hormonal imbalance, protein deficiency, pollution, weather or sleep deprivation. Though certain problems of hair loss may need medications, therapy or transplants, hair loss can often be treated with simple measures. A diet rich in proteins, minerals and vitamins can not only boost hair growth but also make it thick and strong. A few simple home remedies for hair thinning can also help to reduce hair fall and enhance hair growth.
**Consult India's best doctors here**
Here are a few simple ingredients that can help, which are effective, easily available and do not have any side-effects, unlike the high-end hair care products available in the market.
Hair thinning: Home remedies for hair growth and thickness
1. Fenugreek or Methi seeds
Fenugreek seeds are known to be an integral part of hair care packs. The reason being, it not only prevents hair fall but also makes your hair silky and shiny naturally. As these seeds are rich in nicotinic acid and protein, it helps to strengthen the hair shaft. This helps to reduce hair thinning and also prevent scalp damage and follicle damage, improving hair growth.
Tip: To use methi seeds for hair growth, here is a simple hair pack you can make at home. For this, soak a tablespoon of methi seeds in water for around 12 hours or overnight. The next morning, put it in a grinder to make a fine paste. Add a little water to make it a thin paste. You can also add curd to the mixture if you have dandruff. Mix properly and apply it to the hair including the scalp and along the length of the hair. Let it remain for 30 minutes and massage it. Wash it off with lukewarm water. Repeat this twice a week for at least a month for visible results.
2. Hibiscus or Gudhal
Hibiscus, commonly known as shoe flower, is very effective in promoting hair growth along with preventing premature greying of the hair. It contains vitamin C, which boosts the production of collagen, a compound that helps in strengthening the hair from the roots. Moreover, it also nourishes the hair and stimulates hair growth from the dormant hair follicles. Hence the flower and its leaves can help in hair growth and also add volume to the hair.
Tip: To make a hair pack of hibiscus, you need its leaves or the flower. The leaves of the hibiscus are crushed to obtain a slippery fluid which is then mixed with coconut or castor oil and applied to the scalp. Alternatively, you can add shoe flower leaves and flowers to a pan containing coconut oil, heat it till the leaves and petals turn dark in colour. Cool the oil and apply it on the scalp and over the length, leave it for about an hour and then wash off with a mild shampoo. Do this regularly for effective results.
Also Read: Hibiscus Benefits for Hair
3. Henna or Mehndi
Henna is a natural conditioner and is a common remedy for various hair problems. In addition to making your hair smooth and shiny, henna also nourishes the roots and keeps your scalp healthy. It works by unclogging the pores and also maintain the pH levels of the scalp, thus preventing hair loss and promoting hair growth. Moreover, it also repairs the damage in the hair and improves hair elasticity, by nourishing the hair.
Tip: In a bowl, add two-three tablespoons of henna powder (buy an organic one). To this, add tea water (add tea powder to a glass of water, boil, cool and strain). Mix properly to make a fine paste. It is preferable to use an iron vessel or bowl to mix it. Leave it overnight or at least 5-6 hours. Apply this mixture to the hair and leave it for 2-3 hours and wash it off with lukewarm water. For good results, henna is generally combined with shikakai and reetha. Apply once a week for gorgeous hair.
Prevent Further Hair Fall And Greying. Act Now. Shop Now.
4. Coconut milk or Nariyal ka Doodh
Just like coconut oil, its milk is also good for the hair. It contains essential fats and proteins, which are quickly absorbed by the scalp and thus, provide nourishment to the hair. It is also rich in potassium and iron, which makes it a best natural remedy for hair growth, and also reduce hair breakage and fall.
Tip: To extract coconut milk, all you need is a coconut and some water. Add a cup of grated coconut and some water in a grinder to make a paste. Pass the mixture through a sieve or strain it using a strainer to get coconut milk. Extract the milk of about a cup of coconut. Apply this milk on the scalp by gently massaging around the hair roots. It nourishes the scalp and also promotes hair growth. Wash it off with water and repeat it regularly for healthy and shiny hair.
5. Sour curd or Khatta Dahi
Yes, sour curd acts as a simple but effective home remedy for hair loss. Sour curd not only contains all the essential nutrients but is also rich in protein and amino acids, which help in strengthening the hair. Also, curd is rich in probiotics and antioxidants, which help clear toxins from the pores and aid in hair growth.
Tip: Curd works best for hair growth when applied directly on the scalp. You can also add fenugreek seeds to it to boost hair growth. Apply curd over the hair, let it remain for 30 minutes and wash it off using a mild shampoo. Do this every week for effective results. You can also use sour curd mixed with ground black pepper to make an anti-dandruff pack. Use it twice a week and wash off with plenty of water to get rid of dandruff and also hair fall.
6. Indian gooseberry or Amla
Amla or Indian gooseberry is high in Vitamin C, antioxidants and anti-inflammatory properties. The nutrients in amla boost blood circulation, provide nourishment to the follicles and thus, promote hair growth. Consuming amla will also provide the necessary strength and nourishment to your hair. It also optimizes the pH levels and maintains oil production. The presence of vitamin C helps in fighting free radicals that are responsible for damage of the hair follicles and thus, prevent hair fall.
Tip: The best way to use amla for hair thinning and promote hair growth is to use it as a hair pack. For this, take dried gooseberry powder in a small bowl. To this, add sufficient quantities of tea extract (tea powder with water, boil, and strain). Apply it on the scalp and hair including the ends as it works wonders for hair. You could also mix fresh amla extract with oil and apply to your hair to promote hair growth and thickness.
7. Egg or Anda
Eggs are rich in protein, selenium, zinc, and iodine. It also contains omega-3 fats and biotin, a water soluble vitamin that is commercially available and widely used to promote hair growth and prevent hair fall. The nutrients in egg white not only prevents the hair follicles from breakage but also moisturizes the hair and nourishes the scalp to boost hair growth and thickness.
Tip: In a bowl, break an egg such that you separate the egg white from the yolk. Mix it thoroughly with a spoon. Apply this mixture on the scalp and along the length of the hair. Let it dry and wash it off with water. There is no shampooing necessary immediately after applying egg white as it also acts as a natural conditioner for your hair. Regular application of egg white on your hair will make your hair strong, healthy and full of shine.
8. Aloe vera or Gheekumari
Being a rich source of vitamin E, aloe vera proves to be a great choice for natural hair treatment. Aloe vera is mildly alkaline in nature, which helps it to restore the natural pH level of the scalp. This not only prevents the thinning of the hair but also leads to hair growth. Aloe vera also exerts a cooling effect on the scalp and the nutrients in it provide nourishment to the hair follicles, helping in hair growth and preventing hair fall and hair thinning.
Tip: Pick a whole aloe vera leaf and cut it in the middle. Allow the yellow liquid to ooze out. Now, extract the fleshy part of the aloe vera leaves and apply on the scalp. Leave it for half an hour and wash it off with water. Repeat this twice a week for hair growth and thickness. You can also use herbal shampoos which have aloe vera in it.
Also Read: Aloe Vera for Hair
Apart from following these simple home remedies for hair growth and thickness, it is equally necessary to maintain a healthy diet, lead a stress-free life and get adequate sleep to keep your hair naturally healthy and strong.
(The article is reviewed by Dr. Lalit Kanodia, General Physician and Dr. Deepak Kumar Soni, Ayurvedacharya)
Recommended Reads:
Tips For Healthy Hair | Skin Diaries | By Dr. Geeta Patel (Dermatologist)
 Hair Loss Treatment: Medicines For Hair Fall And Hair Regrowth